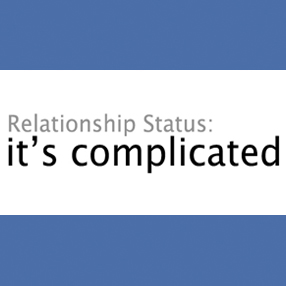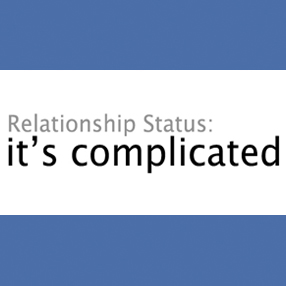 I'm not sure if you've noticed, but Facebook has added a few additional relationship status options. It appears apart from Single, Married, In a relationship, Engaged, Married, It's Complicated, In an open relationship, Widowed, Separated, and Divorced you can also select In a civil union and In a domestic partnership . This got thinking, since 73%* of people on Facebook use it for relationship related activities, it would be fun to see them add a few more options.
(* A completely random number I just made up.)
Turns out I'm not the only one with this idea. Here is a list of Relationship Status options I'd like to see them add (the first half of which are borrowed from someone else's Facebook post).
Cats only
Single and awesome
Baby Daddy
Experimented at college with
Blacked out and woke up with
Playing house with

Building a pillow fort with
Shacking up with
In a Relationship with ______, but don't tell ______ in case he/she like me too.
Just seeing where this goes with
Smelling glue with
Knocked up by
Brainwashed by
Drinking Kool-Aid with
Sharing a jail cell with
Has amnesia but everyone says is married to
Pretending to be pirates with
Climbing trees with

Protecting _____ from spiders
Got a green card for
Sharing a mutual dislike of NASCAR with
Dresses up for Star Trek Movies with
Together for tax reasons with
Putting the toilet seat down for
Married long enough that they no longer hold in their farts in front of
Riding dolphins with
Hoping _____ gets the hint and buys a damn ring already
Is a coward and hopes _____ ends the relationship soon
Quoting Monty Python and the Holy Grail with
Petitioning Congress to make it Illegal for Adam Sandler to Ever Appear in Another Movie with
Found the Rainbow Connection with
On a bender with
Yes, I could keep going, but you get the point. I do hope you got a Smirk out of this list and if you happen to be in a comment leaving mood, I'd love to hear some of your own relationship status updates you'd like to see Facebook implement.
Image Sources:
Google Images, keywords: it's complicated, pillow fort, and scared of spiders.
Copyright © 2012 Richard Timothy