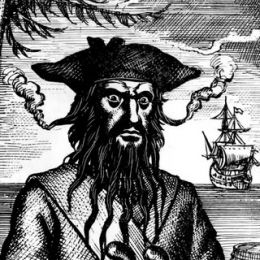 It was my last Smirk that got me thinking about words and how easily a definition could change simply by looking at the way the word was made up. This got me looking at other words, words that have changed over the years. I don't mean the definition has changed all that much, it's just managed to acquire an addendum, but the outfit has certainly devolved in that process.
If I were to ask you what a pirate looked like you'd more than likely be able to point one out in a group … or would you? Sure a few hundred years ago pirates were the scourge of the seas, renowned and feared because of their affinity for murdering, looting, plundering, arson, hijacking, public intoxication, an unapologetic potty mouth, among other anti-gentlemanly activities. They exhibited the same kind of maritime behavior that made early Vikings famous for being the bad asses of the seas.
In searching to find examples of what pirates actually looked like, I managed to find a virtual copy of The Buccaneers of America (printed in 1678), thanks to The Library of Congress, which had a number of images of pirates from that era. I used these as my reference for what pirates use to look like. Even though none of the images depicted a pirated in a version of the iconic Seinfeld pirate shirt, there was enough suggestion in the images that pirates certainly had their own outfits, which moves me to suggest that the outfit of a pirate was distinct enough that people certainly knew a pirate when they saw one. I'm sure it was a look that took a little time to find and that everyone in the pirate fashion industry could agree on, but once it all came together it was obvious who was a pirate and who was not.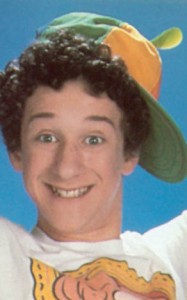 Pirates once carried with them only the image of Depp's Captain Jack Sparrow, only meaner and a bit more of a tyrannical personality. It is true that that type of pirate still exists; take to those lads in Somalia (who actually do not consider themselves pirates) or similar types. No I'm referring to the addendum to the word pirate, which has come about in the last few decades. Today, the word carries with it the image of some 13 year-old that looks like Screech from Saved by the Bell, who spends most of his free time at his computer illegally pirating music and movies using some file sharing program like Napster, Bittorrent, Limeware, Kazaa or Bearshare. It's a little depressing when you think about how the image of a pirate has changed in the last century.
To give a little clearer picture of what I mean, here's a short comparison between two.
Original pirates: Weapon of choice, a cutlass and a flintlock pistols.
Present day pirates: Weapon of choice, a computer with internet access and an iPod or some other media watching/listening device.

Winner: Original pirates.

Original pirates: Sidekicks, an animal of some kind like a monkey or a parrot.
Present day pirates: Sidekicks, something that enhances their ability to pirate something at a moment's notice, like a memory stick or USB key for quick and easy access to friends electronically formatted music libraries.

Winner: Original pirates.

Original pirates: Wore silly hats, but made them look cool (example: a tricorne).
Present day pirates: Wear normal hats, and make them look silly (example: a baseball cap worn backwards).

Winner: Original pirates.

Original pirates: Beverage of choice, a bottle of rum.
Present day pirates: Beverage of choice, a bottle of water.

Winner: Original pirates.

Original pirates: Wore long sleeve puffy ruffled shirts that look ridiculous in when worn with a pair of jeans, but somehow worked with baggy pants and knee high boots.
Present day pirates: Wear tee shirts that have entertaining graphics and/or sayings on them that look ridiculous in when worn with baggy pants and knee high boots, but somehow worked with a pair of jeans. (Even though original pirates in their full outfit looked a lot cooler, present day pirates are a lot more comfortable.)

Winner: I think this one will have to go down as a tie depending on what result you are after.

Original pirates: Had names like Blackbeard, Calico Jack, and Barbarossa.
Present day pirates: Have names like Shawn Fanning, Brianna LaHara, and Jammie Thomas-Rassett.

Winner: Original pirates.

Original pirates: Gave us words like booty and hornswaggle, not to mention their affinity for pronouncing long Rs every chance they got.
Present day pirates: Gave us words like rip and burn as an act for copying something. Plus, they have not carried on the tradition of using the long R sound in all of their every day speech.

Winner: Original pirates.

And that ends this little comparison with original pirates 7, present day pirates 1. It is important to point out that present day pirates are a much nicer breed of people than original pirates. They don't they don't kill people, unless they are in 100% virtual and found in some computer game they've pirated. They don't trespass onto property that is not theirs and take things that aren't theirs. They don't hoard all of their pirated loot, instead they open it up to anyone that would like to download some of their pirated goods … they are very big into sharing actually.

I guess it breaks down to this, even though original pirates looked a lot cooler and were much more bad ass than present day pirates, I really do prefer the present day ones, they are a lot better people and they shower regularly. Perhaps someday we'll come up with a cross breed pirates, once that looks cool, but doesn't go around violating other human rights, you know like a present day pirate dressing up as an original pirate for Halloween, or a Flying Spaghetti Monster convention. You never know.

What are your thoughts on the two pirate types?

Image Sources:
Google Images, keywords: Blackbeard, Screech, pirate with parrot, rum bottle, water bottle, pirate treasure, and pirate with iPod.

© Richard Timothy 2011