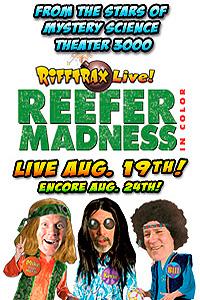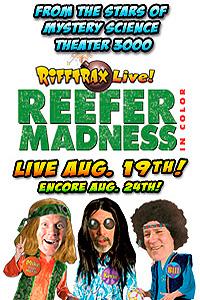 So last Thursday, the 19th, I and a few of friends, made it to the RiffTrax Live! performance at one of the local theaters. Now usually when I mention RiffTrax I have to give a brief history about what RiffTrax is. If you already know, feel free to skip the next paragraph. If you don't, a little history never hurt anyone… except all the people that were harmed in the making of the history involved… right! So about the history of RiffTrax, in order for me to do that I need to first tell you a little about their origins.
RiffTrax is essentially the love child of Mystery Science Theater 3000 (MST3K) and short lived Film Crew. MST3K made a cult name for itself doing the very thing that we all do when watching something "sort of" to "epically" lame on the television, which is… making fun of it with your own open commentary. MST was a show about watching people watching bad movies while making fun of it. After the show ended, the three guys that finished the series started a new venture called the Film Crew. After a few hang-ups there, namely MST owner Jim Mallon (who, in my opinion, is kind of a douche bag) told the distributor of the DVDs that he would pull all future MST title distribution unless they passed on the Film Crew series, the Film Crew ended and RiffTrax began.
I know, it's a lot of exposition just to get to the point, but I think it helps those who have no idea what RiffTrax is. A RiffTrax Live! event is where the RiffTrax crew do a live performance in a theater where you get to watch them on stage making fun of a movie. In some cases they broadcast this live event to a bunch of other theaters across the country. This is what I went to and enjoyed last Thursday.
Having been to a few of these broadcast events now, and being an MST3K fan that treads somewhere around of the edge of the "devoted" to "ludicrous" waters, I always know I'm in for a good time. One of the best things about these events is that you are surrounded by like-minded and like-humored people, people who are there because they too love MST. The audience is full of that ready to laugh energy. It's infectious and it makes the whole event that much more entertaining. The experience did offer two new additions that I had not experienced before, namely Frank and Dwight… two of the friends that join me for the show were pretty much MST virgins.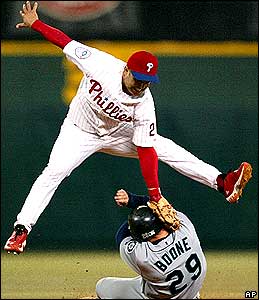 Ok, so maybe Dwight had gotten to second base with an MST episode or two before, but that's about it. Frank had heard about it, but I don't think he'd ever had a full and true MST experience… which, technically, he still hasn't, but he will. I can say that neither are RiffTrax virgins anymore. Not that it was ever on their "bucket list", but at least now they can now put it on the list and cross it off at the same time. Also, both are newly devoted fans to the riffing on movies experience. I must say, there is something incredibly satisfying about introducing friends to one of your favorite things in the world and having them become fans of the art that is MST.
It felt a little like saving the Oompa-Loompas' from total destruction and introducing them to a new life filled with songs and candy… and what really kind of comes across as slavery… hmmm, ok bad example. I guess you could say it's more like smoking… minus the disgusting, smelly, smoky, cancer causing affects. What I mean is when a smoker meets someone who is also a smoker there is a sort of bond, an unspoken connection to that other person, I guess the same could be said for scrap booking… and I know I feel the same way when I learn that someone loves MST3K.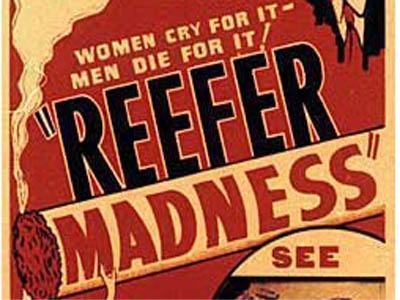 So what did we watch? Reefer Madness… in color no less. If there is one thing this 1930's propaganda film can teach you about pot, it's how to laugh at people who smoke too much of it. It really was a grand time, accompanied by a few really crappy special effects and some "crazy eyes" camera angles that will keep you giggling for a good two or three days after. Frank and Dwight loved it, which I loved because, guess what that means? Yep, I've got some MST/RiffTrax/Cinematic Titanic parties to plan. One universal truth about MST is that, even if they are fun to watch, they are so much better when you are watching them with friends that are enjoying them as well.
The point I wanted to make with all this is this… tomorrow, August 24th they are doing an Encore performance of the Reefer Madness RiffTrax Live! event. If you are a fan, but missed it, or didn't even know about it, tomorrow is your chance to check it out. If you enjoy MST3K at all it's well worth the price of the ticket. I just hope you live in a town that will be showing the Encore performance. Hope you can make it.
Click here to check and see if it's playing in a theater somewhere close to you.
If you did happen to make it to the show, what did you think?
Google Images, key words: RiffTrax Live, second base, and Reefer Madness.