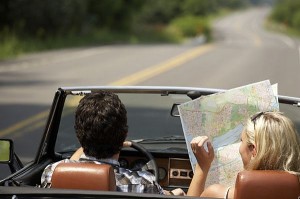 "Those are big sheep," Angela said from the passenger's side of the front seat.
I made a quick glance into a field and as my eyes returned to the road I chuckled a bit and said, "Um, honey, those are llamas."
She turned around to look out the back window and double checked. "Oh! Well I only saw their woolly backs."
It wasn't my cutie-baby-sweetie-pie's first animal misidentification of the trip and it wasn't going to be the last. The first happened as we were traveling along the freeway across some sagebrush infested plains. She looked out the window and said, "Oh look, deer."
Focusing more on passing a Winnebago than looking at what she saw I made one small assumption and asked, "Are you sure they're not antelope?"
"They could be. They are funny looking deer."
People have different strengths, identifying animals in nature is really not one Angela's. But she still tries… and I love that about her. Plus it keeps us laughing as the miles roll by.
For Labor Day weekend this year, we did something that we had not done in years… we left town. It was actually a joint effort. Three of our dear friends, one of which grew up in the same town in Wyoming as I did, and Angela and I decided to go to Star Valley for Labor Day weekend to do some hiking, and so our friend and I could introduce them to the place we identified as our "hometown" on our Facebook profiles. Our friend's parents, who still lived in town and had the extra space, were kind enough to put us up for two nights (Saturday and Sunday).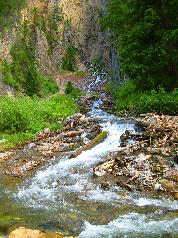 We all arrived at our friend's parent's house within the same half hour. After we got our cars unpacked, we all piled into Angela's car and headed up the canyon to go on a hike to see the world's largest intermittent spring. Sure there were a lot of cowboy's and jacked up trucks I had to deal with growing up, but the water… it's liquid perfection. Whenever I have the treat of being able to drink some, it always takes me back. It is the flavor of my youth… well that and Mountain Dew.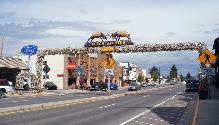 After our hike, which is now mostly a stroll due to a lot of trail reformation thanks to excessive use of a CAT, we made our way to a little chocolate shop on Main Street. We even parked next to the only street light in town; a flashing yellow light where a crosswalk is in the middle of Main Street. It just so happens to be resting on right under a mammoth (as in large and not the extinct animal of the woolly variety) arch made of elk horns that spans across the entire four lane width of Main Street. The claim is that it's a largest elk horn arch in the world. I don't know if this is true or not, but it's always stricken me as an odd source of town pride… and it's been there as long as I can remember making the people of Afton very proud.
Star Valley is beautiful… I will give it that well deserved credit. I say Star Valley instead of Afton because Afton is in Star Valley. See there are about nine or ten little towns in the forty mile stretch that makes up Star Valley. So even though there are a bunch of elementary schools there is only one junior high school and high school, both of which bare the title Star Valley. So when I say Star Valley I do mean Afton as well, but I also mean all of the other towns that make up the valley as well.
One thing I did manage to do while driving everyone around town was to show them all of the buildings I had climbed on top of and thrown tomatoes, water balloons, and eggs off of. There was that one Molotov cocktail that was thrown off the movie theater once, but I had nothing to do with… I mean I was there, but I didn't help make the thing, or light it… or throw it… I might verbally suggested that the culprit give the thing a toss once it had been lit, but that's it, I swear. It was late at night too, so most everyone was asleep and the flames only lasted about five minutes anyway. The police never even showed up to investigate… and the flames were only about 100 yards from the dispatch center, so it's not like they would have far to go if they had noticed.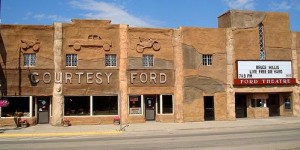 It's funny, but after almost 20 years of not living there, most things still look the same. There are a few new buildings that are pretty and a few remolded ones that are the kind of eye sore that had your eyes their own appendages they would poke themselves in the eye just so they wouldn't have to look at it. I'm talking about you Courtesy Ford.
Saturday consisted of enjoying dinner with our friend's parents, followed by a discussion about post-modern movement of philosophy. It was actually a lovely discussion, which we rewarded ourselves but getting shakes at the local drive-in restaurant the Red Baron, which is still as good as I remember. Well done and thank you for not letting my nostalgic taste buds down. Then went and caught the late show at the only theater in town, which is part of that same eye sore car dealership of a building.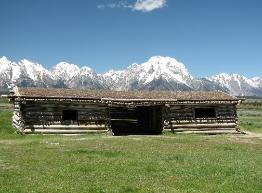 Because Star Valley was settled by religious folk, and the offspring of these said religious folk still make up 95+% of the entire valley's population this can only mean one thing… nothing is open on Sundays. So to address this issue, we went to Jackson (Jackson Hole) for the day instead, because in Jackson, tourism trumps religion every time. It was a bit blustery, but we still made it to some nice spots and took lots of pictures of the illustrious Tetons. We even had another Angela animal sighting… turned out to be an elk… pretending to be a moose.

We stopped at the grocery before leaving town so we could A) get some food for dinner because the grocery in Star Valley was closed and B) so we could buy some wine for dinner. Let's just say liquor stores in Star Valley are not renowned for their wine selections… unless you consider all of the flavors of Boone's Farm flavored malt beverages to count as wine. For my 'take home and save for a special occasion' find I scored a bottle of 'Old Codger' an Australian Port. I have no idea if it's good or not, but seriously, how could you pass up a port called 'Old Codger.' I smile every time I look at the bottle.
Sunday evening ended with us sitting around the dinner in the guest kitchen, eating cheese and bread, enjoying aged balsamic vinegar with the cheese and bread and filling the night with sips of wine and conversation about how we came out of a small Wyoming town 'normal' and with a liberal perspective. We then topped the evening off with a few eyefuls of stars thank to our friend bringing his telescope.
I do have to say though, that there was one thing that kept cracking me up the whole trip. I'm sure I was the only one to notice, but it was the constant use of the phrase, "I've got 3G coverage here," or the other just as used phrase, "I've got no signal here." I guess when you use your phone as a paper weight with a monthly payment plan phrases like that never come to mind. But for those that use their phones to update Facebook, use the GPS so we don't miss our turn, or Google one of the little sites we are seeing to get a more in-depth history about it, I can see how that could be important.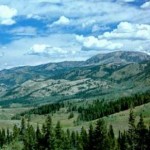 All in all, it was a brilliant Labor Day weekend… and I only scared the hell out of my wife about 23 different times passing cars on the small back highways the lead out of Wyoming back to Utah… but for the record, we did make good time, and that nervous twitch in her eye is gone now. As for Star Valley, I'm glad I don't live there anymore, but it is a groovy little place to spend a weekend…. you know, before the snow sets in. Thanks for the memories you little valley of stars.
How was your Labor Day weekend?
Image Sources:
Google Images, keywords: road trip couple, periodic spring, elk horn arch, Courtesy Ford, Cunningham's Cabin, Old Codger port, and Star Valley.