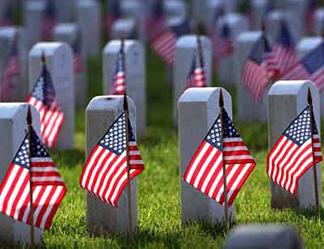 I did have a Smirk that I was going to post today, which I've been working on the past few days, but, clearly, I opted out of posting it due mainly to the fact that today is a holiday, Memorial Day to be precise. At its origin, Memorial Day was refereed as Decoration Day, where people would decorate the graves of Union soldiers that died during the American Civil War. The decorations were a way of paying respect and giving thanks to the soldiers who died while in service of the military.
Even as early as 1882 the name Memorial Day was used in relation to this holiday, but it was not until 1971 that it officially changed. The day was changed to always be observed on the last Monday of May in order to ensure a three day weekend. It also marks the beginning of summer.
I get that Memorial Day is for remembering our fallen military, but for me ever since I was little, the holiday as evolved into something more. To me, Memorial Day is a Dia de los Muertos, Day of the Dead. It's not just a day for fallen soldiers, it's a day for remembering all that have passed on. Since my mom's grandparents were alive while I was growing up in Wyoming, there was never a need to go the their graves for memorial day, but once a year the family we would travel to Idaho and visit the little head stones of my dad's parents. Then, as we would weed, edge, and deleaf their graves, and scrub clean their headstones, my dad would tell us stories about Grandma and Grandpa Timothy.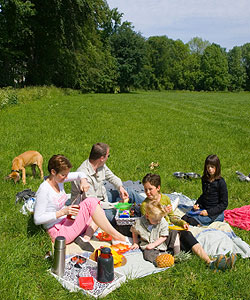 When my dad's voice would start to crack and the silence between each sentence grew longer that is when the stories would come to a close, and we would go to the car and get out the food for our Memorial Day picnic. Usually it was sandwiches and Kool-Aid, and sometimes it was sandwiches and Kool-Aid and 7 Up mixed together for the magical combination of twice the sugar with only half the bubbles. Still, it was a treat that we never took for granted.
After lunch was over, we would usually head back home which consisted of me sitting in the middle of back seat with my feet on the hump and my knees to my chest. I would dare say that this was my least favorite traveling position, but as it turned out, it was rather fortuitous. I was a head duck away from a sitting fetal position, which was always helpful when sitting between my two older brothers who, on more than one occasion, would feel compelled to fight out what was between them… namely me. I love them both to pieces now, but as the little brother growing up, my old brothers were bastards… of course I mean no disrespect towards my mom. I'm just saying… we didn't always get along when we were little.
Memorial Day is one of those red wine holidays. The older I get the more I appreciate and savor the holiday. I am grateful to the service men that did what they felt they needed to for this country, and I'm grateful for those that I have known who have expired. My grandparents on both sides of the family are now gone, but it was their lessons they transferred onto my parents that helped them become the parents they are for me. Today is a holiday to celebrate the memories we have of those who are gone and it should be a celebration. Their life has affected our life and for that, I am thankful.
Even though today is the US day of observance there are similar holidays celebrated for this same purpose. There is:
And I'm sure the list just keeps going from there. There is a certain homage that is tied to people who have served and died for their country. I do think, though, that one can serve their country without military service. I look at people working at a soup kitchen to assist those in need, or people offering their time to serve people in hospitals, or donating blood, or any type of service that helps others. To me, that is serving your country.
And to add just a one more thing to my little soapbox moment here, please try to leave the politics at home on days like today. Let's try being gracious to those that are gone. So lift a glass, pint, mug, bottle, cask, keg… whatever really, but lift your drink and offer a thanks. I don't see the point in getting angry on a day like today, it doesn't do you any good and it doesn't do those that are gone any good. I do admit I have no experience with losing a loved one due to war. I'm sure it's different for you.
I think most service men die because those in charge made poor decisions or were too proud to have conversations with other people in charge that could save lives. Then again, there is also the occasional crazy bastard that just wants to kill epic amounts of innocent people. In which case I do think people like that could benefit from either a lobotomy or a circumcision that starts at the base of the neck. I guess the point is, that on your day of remembrance, you choose to remember the loved ones who is gone, and not what took them away.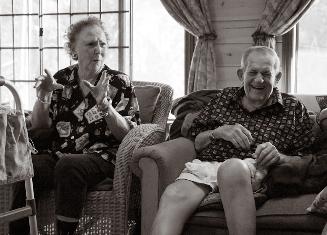 I'm actually off to my brother's for a BBQ this afternoon. When I get there, I'm going to have both my parents tell us a story about their parents. Even though we didn't visit any graves this year, at least we can share and celebrate the memories we have of them. So to all those who have gone to whatever beyond you think might exist or not exist, to those who believed in and gave something to this world and their country , and to my grandparents, my Aunt Carol and Uncle Dee, and to my friend Alison. And finally to days like today, which remind us to remember. Cheers!
How was your Memorial Day?
Image Sources:
Google Images, key words: Memorial Day, family picnic, and grandpa telling stories.