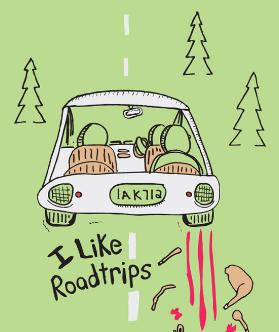 I'd like to say that this past weekend was a road trip, but I'm not sure it was, even though I spent 4 days on the road, and I don't mean that in the Kerouacian way. It was fun. It was also very exhausting, a little uncomfortable, highly butt numbing, but still fun. I equate that to the company I was traveling with. You want some random relationship advice? When you meet someone you rather fancy and you are deciding on whether you want to take it to the next level or not, go on a road trip with them. The driving time should be a minimum of 10 hours to your destination and 10 hours back. If you still fancy them, or even mildly like them. It's worth moving forward.
The reason I don't really consider the trip a road trip is the adherence to a schedule and destination. I've always looked at road trips being 99% about the journey and 1% about the destination, which was not the case this past weekend. Our trip was predominantly about the destinations. Still there were a few things that did fall into the realm of the road trip.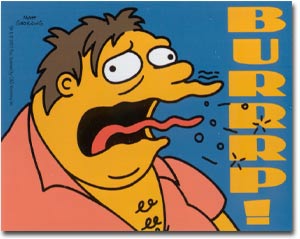 I'm not sure why it is, but there are levels of trust and acceptance that happen on a trip of this caliber. These processes may seem insignificant, but there is something incredibly bonding about them. The first of these two steps happened maybe 6 to 8 hours into the trip. It was subtle and innocent and placed very properly at the end of a sentence. It was the first burp of trip.
Yeah, I don't get it either. Being of the male persuasion, burping is a, well, a rite of manhood. Learning to burp the alphabet is how the team leader of kickball was decided during recess. He that could burp it the fastest got to pick first. I dare venture to say that this necessary function is viewed with a bit more reserve by your average woman.
It was impressive to notice the air lift in the car when the first burp accidentally escaped. It was that sigh of relief that the bond of friendship between everyone in the car had now reached the "burping is an acceptable activity to do around these people" step of road trip etiquette. Another thing I learned, in the confines of a small vehicle where the burp bonding portion of the trip is engaged, women find burping just as funny as men do. The key thing to point out is that these are unsolicited burps, meaning mostly accidental… which means people start drinking soda instead of water to make sure they have the opportunity to make their contribution to the burp bonding that is now in full stride. Cheers and congratulations are also implemented at this point. If a burp is expelled with purpose, volume, and vibrato the others, after the laughter has subsided, offer their verbal support with a "oh nice one", "well done", or "nice push."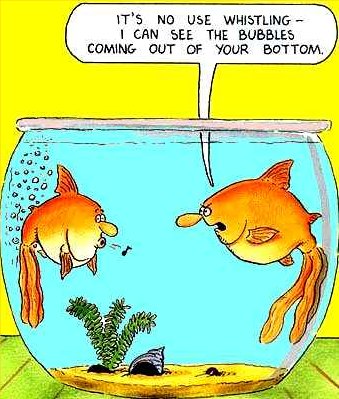 There is a natural progression to this venue of trust, openness, and bonding. There is something inherently accepting about arriving to that stage of comfort to allow your body to perform a very natural and necessary process of human existence. The pungent bodily produced aroma therapy designed for release and traditionally lit on fire by males ranging between 13 to 24 years of age is one of those defining moments in a relationship. Men commonly slip open first, but when a woman finally reaches that level where she can pass wind in front of a guy when she really has to let it out… let's just say if you are not already living together, get ready to have that conversation.
Does that mean that windows were strategically rolled down and back up a minute later during our trip? Here's what I can tell you about that… maybe. But, and this next bit is just for the guys, I did learn something about the female mind that I had no idea of until this trip. It's a girl thing that I had never heard of before, but apparently, women are very conscious and weary about using your toilet early in the relationship. It's a very real relationship marker when a woman feels comfortable to finally use your lavatory. Who knew! Well obviously they did, but now we do too. It's like finding out a secret that you were never supposed to know, like it was a Roswell aliens that were responsible for the assassination of JFK. Sure it's a mute point to most men, but it's also oddly fascinating.
I do have to say that the core road trip element of the entire trip occurred in Vegas, namely at Trader Joe's. Trader Joe's is the store that Whole Foods wishes it could be, but is just a little too posh and insincere to ever become. There is one key element concerning Trader Joe's and it can be summed up in one word… wine. Cheap, yummy wine… ok so let's make that three words.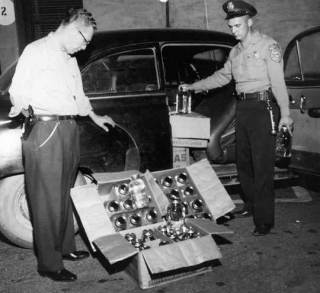 Utah liquor laws are mostly silly, with a hint or two of mind lobotomizingly stupid. What does this mean? Easy, bootlegging! The art of smuggling alcohol across state lines to assist the never ending urge to completely fill your wine rack at home. I'm not sure why, but the true road trip framework always seems to have an illegal or walking the line of illegal element associated with it. Bootlegging wine from Nevada to Utah was our truly road trippian moment, and it was worth it! I had a glass of one tonight. Besides, it was only one case of wine. I very conservative run based on my bootlegging batting average.
The trip did result in me getting to know two friends a lot better. It was wonderful, and it left me loving my wife more that I did before we started the trip. But she's one of those people that you can't help but love more and more every day. So it really was a challenge or a surprise. All in all though, it was a grand and immensely successful trip.
Any road trip insights you care to share?
Image Sources:
Google Images, key words: road trips, burping, farting, and bootlegging.