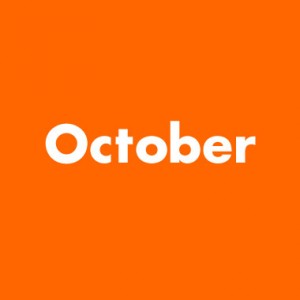 With the start of the new month it is once again time to take a closer look about our beloved "Look, pumpkins really do have a purpose!" month, and learn a few things you may not know about our tenth month of the year. The big American holiday this month is Halloween, which I have Smirked about in the past, and totally worth checking out if you have not read it yet (wink, wink, nudge, nudge).
As for the rest of the month, here's what I found out, October is also, but not limited to:
Adopt a Shelter Dog Month – I am allergic to these canine mongrels, so I get a pass for this one, but to those of you that might feel compelled to take part in this celebration, I would highly recommend that you do not do this every year, but only when you are dogless or when you dog could use a pal because all the kids have left for college and no longer has anyone to play with on a regular basis.

Applejack Month – This is AWESOME! I had to look it up, but here's what I found: "Did you know that Johnny Appleseed was really named John Chapman, and that he sewed his apple seeds throughout colonial Ohio and Indiana primarily for the purpose of providing rural farmers with hard cider and applejack, the most popular intoxicating beverages for country folk back then! The apple harvest and October's chill have traditionally ushered in cider season, and applejack, a concentrated and higher proof version of hard cider is now an officially recognized part of that tradition. Happy National Applejack Month!"
Breast Cancer Awareness Month – Also know and Pink Ribbon Month, at least it probably is, and if it isn't, it should be. And I would like to add that if I had a job that required me to wear a tie, I would wear nothing but pink ties all this month. Maybe I can find some pink socks.
Clergy Appreciation Month – Since I am officially clergy (check out my Reverend Smirk) and since I completely appreciate myself, I can definitely get behind this celebration.
National Diabetes Month – My guess is that this is either the month dedicated to making people more aware of diabetes, and sharing tips for how to avoid getting it, or it is the month most likely to give people diabetes thanks to that evening of gluttonous candy consumption . . . actually it's probably both.
National Vegetarian Month – Why? Because Vegetarians are delicious!
Sarcastic Month – Ohhh, an entire month dedicated to being sarcastic! What a brilliant idea! (/sarcasm off).
When it comes to week long celebrations, October starts off week one two topic of celebration, Get Organized Week and Customer Service Week. I think I'll get organized this weekend, and by organized I mean I might consider dusting my office. Hey, a tidy office does not mean you are organized, but having no dust on all the crap you have stored on your selves . . . well if that doesn't scream organized, I'm sure I don't know what does. Then for customer service bit, I'm considering taking Friday off, that way I won't have to deal with serving any customers at work. (Note: This Smirk was finished and posted on Friday, and guess what? I'm not at work! Shhhhh.)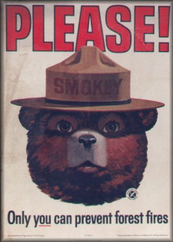 Week two is another two-parter with Fire Prevention Week and Pet Peeve Week, which pisses me off, because I hate bears that try to tell me that I'm the only one that can prevent fires. The first time I heard that as a kid, it stressed me out. Talk about a lot of responsibility. I even kept a loaded squirt gun in my pocket for a week, just in case I came across any fires. The problem was it was a cheap squirt gun and was constantly leaking, so for a week I walked around looking like I had wet myself, hence another reason I hate that bear.
Week three is Pastoral Care Week, so I guess for you church going folk to show you care you could always make an extra effort to stay awake during your pastor's sermon on the 3rd Sunday this month. For you non-church types, I plan on going to get a milk shake made out of pasteurized milk to show Louis that I do care about his gift to the world. Hey, Pasteur was the closest thing to a pastor I could find for the non-religiously inclined, and I think it makes a very good substitute for this week's celebration.
Week four also has . . . nada. I could find anything for week four. Here, let's just call it, Buy Candy for Strangers Week, since that is what the main focus for the week usually seems to be.
As for special days in the month of October, I managed to find 60+ different day celebrations. Today happens to be Do Something Nice Day and World Teacher's Day. Considering I didn't go to work today and that I'm posting a new Smirk for everyone to read and enjoy, I think I've done something nice for everyone today. To embrace this day fully I'd just like to say to Don Barrow, Steven Timothy, Billie Sessions, and Rebecca Clack, thank you for encouraging me to embrace my creativity and introducing me to a world full of art, both literary and visually.
As for the rest of the days, for the sake of avoiding a ridiculously long list, I'll highlight just a few of my favorites:
October 6 – Mad Hatter Day – In honor of the Alice's Mad Hatter of Wonderland fame. So, I guess, put on a hat and enjoy some tea with your friends.
October 11 – Take Your Teddy Bear to Work Day – I'm going to dress mine up like me, that way I can take a really long lunch and just place the Teddy in my chair and hopefully no one will notice I'm gone.
October 12 – Moment of Frustration Day – Do you just save up this moment and then embrace your frustration on this day? Because if you are not likely to get frustrated easily, this day is going to go to waste.
October 17 – Wear Something Gaudy Day – Sounds like the perfect day to get my ugly Christmas sweater out of storage.
October 21 – Babbling Day and Count Your Buttons Day – In the event that you run out of things to babble about, you can always chat about counting your buttons.
October 22 – Punk for a Day Day – I wonder if the punks dress like young Republicans on this day to level things out.
October 29 – Hermit Day – This is supposed to be a quite day spent in seclusion, which, let's face it, if more people celebrated this day correctly, it would be one of the best days ever to go to the movies.

October 31 – Increase Your Psychic Powers Day – The nice thing is that since it is also Halloween, I would love to see the streets filled Star Wars fans walking up to strangers, make a subtle hand waving gesture, and then exclaim, "These are not the droids you're looking for." Not sure if that will increase anyone's psychic powers, but it would be brilliant.
Well, that's it for my highlight of a few October Holidays, it appears that a number of these days require a bit of dressing up . . . fancy that. I hope you found a smirk getting a little more awareness about this month. Cheers, and a Happy October to you all.
Image Sources:
Google Images, keywords: October, Applejack, Smokey Bear, Mat Hatter Day, and Not the droids you're looking for.
Copyright © 2012 Richard Timothy