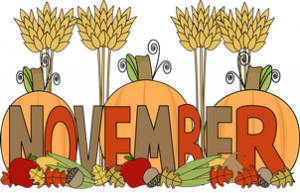 With a new month underway, it is once again time to take a closer look about our beloved "Triptafen Overdose" Month, or "We have all these leftover pumpkin innards, we might as well make pie" Month, and learn a few things you may not know about our eleventh month of the year. The big American holiday this month is Thanksgiving, once an homage to people of different beliefs working together for the betterment of humanity, but now a dedicated to the obsession of overindulgence and stuffing yourself until you pass out.
As for the rest of the month, here's what I found out; if I were to write a novel about drum playing, peanut butter loving, Native American pilot, who only sleeps comfortably when wearing a necklace made out of real rubies, and one day, while at a model train store, he sees a child have an epileptic fit and he saves the child from a life on the mean streets by adopting the kid, well then I think I would have celebrated November in its entirety, mostly.
November is also, but not limited to: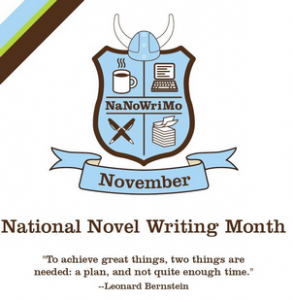 Aviation History Month
Child Safety Protection Month
International Drum Month
National Adoption Awareness Month
National Epilepsy Month
National Model Railroad Month
National Novel Writing Month
Native American Heritage Month
Peanut Butter Lovers Month
Real Jewelry Month
National Sleep Comfort Month
When it comes to week long celebrations November starts off week one with Chemistry Week. Good thing I didn't know about this the week of, otherwise I might have gotten all nostalgic and made a Drano bomb like I did when I was in high school and learning about chemical reactions in science class. Yes there is a story there . . . a few actually, but those will have to wait for another Smirk. All I can say is hurray for explosive education.
Week two is Dear Santa Letter Week and Pursuit of Happiness Week, I think if you wrote a letter to someone you care about, apart from Santa, it would be a good way to pursue happiness this week. Although, is pursuing happiness really the best use of your time? Chasing happiness? Is happiness something you have to catch or is it something you already have and sometimes forget is already there? Find something in your week that makes you happy, embrace it and celebrate the happiness you get from it.
Week three is Game and Puzzle Week, The nice thing about Thanksgiving is that my mom always has a puzzle out for us to work on while we digest and ready ourselves for the first round to leftovers. Kudos to you, mom, for always having a puzzle ready.
Week four also has . . . nada. I could find anything for week four, but if I had to think of something I'd call it: Holy Shit Christmas is only a Month Away, Let's go Shopping Crazy Week, since that is what the main focus for the week usually seems to be.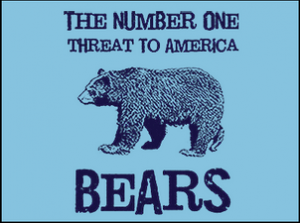 As for special days in the month of November, I managed to find 50+ different day celebrations. Today happens to be Button Day and Have a Party With Your Bear Day. First off, I hope this means teddy bears, because if they mean real bears . . . well apart from being the #1 threat to America, most to all people on the planet don't own a bear to have a party with. As for buttons . . . thanks buttons, you are the classy version of zippers, look much better on almost everything . . . apart from that Michael Jackson jacket back in the 80's, which, thankfully, only lasted about a week. And by week I mean about three years.
As for the rest of the days, for the sake of avoiding a ridiculously long list, I'll highlight just a few of my favorites:
November 3 – Book Lovers Day, Housewife's Day and Sandwich Day – To all the house wives out there, it is your day. Go out and get your favorite sandwich (you should not make it yourself) and when you get home curl up with a book you love and take the day off. When the husband and kids get home, and want to know where their dinner is, you tell them that it is your day and they have to fend for themselves.

November 6 – Marooned without a Compass Day and Saxophone Day – First off, I'd like to give a shout out to Zoot, the Muppet that inspired me to choose the saxophone as my band instrument when I took band. Secondly, Marooned without a Compass Day? Really!? Does this happen enough that we need an entire day dedicated to this? Also, does this mean if we are serious about celebration this day, does that mean we should go out and get marooned after having left our compass at home. Unofficially, the 6th is also "Thank (insert deity of your choice here) Election Season if Finally Over!"
November 9 – Chaos Never Dies Day – All I want to say about this is, years ago in my college speech class an exchange student was giving his speech: "Everyone has cows in their life. Cows at home. Cows at work. Cows in our families. Cows can take over everything, but how do we get rid of the cows?" The teacher then said out loud: "Chaos. It's pronounced chaos."

November 11 – Veterans Day – If you know a veteran, give them a hug and say thanks. I think veterans could use a few more hugs.
November 15 – Clean your Refrigerator Day – I can only assume this is in preparation for Thanksgiving day. There are few things as aggravating as trying to fill a full fridge.
November 21 – World Hello Day and False Confession Day – The false confession portion of this day is what I am truly delighted with. A day dedicated to going into a church and giving a false confession . . . awesome! I recommend we all take the time to confess on this day, even if you aren't religious or belong to a church that has confessionals, find one, go in, and confess away.
November 23 – Black Friday, Buy Nothing Day, Eat a Cranberry Day, National Cashew Day, and You're Welcome Day – I like that Black Friday and Buy Nothing Day are the same day. Either way, you are celebrating one of them. Personally, I recommend buying nothing, but that's because the Black Friday crazies scare me. I also like that since we have a Thanks day, we also have a You're Welcome Day. What a well mannered holiday.
November 30 – Stay at Home Because you are Well Day – One of the best holidays, ever! Everyone should take part in a holiday like this at least one a year.
Well, that's it for my highlight of a few November Holidays. I hope you found a smirk getting a little more awareness about this month. Cheers, and a Happy November to you all.
Image Sources:
Google Images, keywords: November, NaNoWriMo, Number one threat to America, Zoot, and Veterans Day.
Copyright © 2012 Richard Timothy