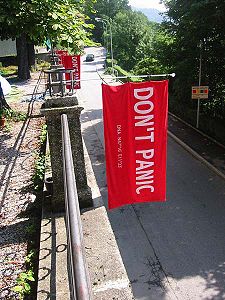 I remembered my towel today, and I didn't panic once. Plus, I do believe I understand the psyche of Linus much better now as well. I did notice that there were a number of people at work today that gave me a noticeable glance of confused inquiry when I walked into the office with a towel draped over my satchel. The nice thing about towel accompaniment is that when you enter a situation where people are in the midst of panic you know you are going to be just fine, and you know why? Because you remembered your towel.
I figure this is the reason why these people only hurriedly glance in my direction as opposed to deliberate staring, or conversing with me as to why I had a towel. I would dare venture to say that the only people smiling at me were people who had also come to work today with a towel, but I was the only towel wielding one in the place. So venturing to say that would do no good. I did explain to a few friends in upper management my towel toting ensemble was a result of it being Towel Day, but this really didn't help the confusion. So I gave them the history of this panic free day of remembrance.
Towel day first started in 2001, just two weeks after the sudden and premature death of author Douglas Adams. And since its incarnation, on every 25th of May for the past nine years, fans of Douglas display their love and appreciation of both the author and his works by toweling around for the day with a towel.
For those of you not familiar with the work of Douglas and therefore are a bit lost in regards to the towel homage being giving, here is my public service for the day. Here is the origin of the greatness of the towel, found in Chapter 3 of The Hitchhiker's Guide to the Galaxy.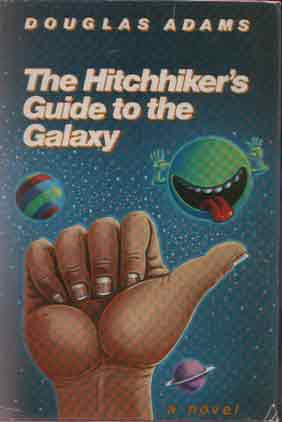 "A towel, it says, is about the most massively useful thing an interstellar hitchhiker can have. Partly it has great practical value. You can wrap it around you for warmth as you bound across the cold moons of Jaglan Beta; you can lie on it on the brilliant marble-sanded beaches of Santraginus V, inhaling the heady sea vapors; you can sleep under it beneath the stars which shine so redly on the desert world of Kakrafoon; use it to sail a miniraft down the slow heavy River Moth; wet it for use in hand-to-hand-combat; wrap it round your head to ward off noxious fumes or avoid the gaze of the Ravenous Bugblatter Beast of Traal (such a mind-bogglingly stupid animal, it assumes that if you can't see it, it can't see you); you can wave your towel in emergencies as a distress signal, and of course dry yourself off with it if it still seems to be clean enough.
More importantly, a towel has immense psychological value. For some reason, if a strag (strag: non-hitch hiker) discovers that a hitch hiker has his towel with him, he will automatically assume that he is also in possession of a toothbrush, face flannel, soap, tin of biscuits, flask, compass, map, ball of string, gnat spray, wet weather gear, space suit etc., etc. Furthermore, the strag will then happily lend the hitch hiker any of these or a dozen other items that the hitch hiker might accidentally have "lost". What the strag will think is that any man who can hitch the length and breadth of the galaxy, rough it, slum it, struggle against terrible odds, win through, and still knows where his towel is is clearly a man to be reckoned with."
— Douglas Adams, The Hitchhiker's Guide to the Galaxy
Douglas captured my creative appreciation when I first introduced to him by my brother Dave, who gave me a copy of The Hitchhiker's Guide to the Galaxy for my 16th birthday. It was groovy enough that upon turning 16, I was legal to drive a car without supervisor, but to top it off I had a guide book, which even though it never helped me get a date, at least it reassured me that I would never be as depressed and Marvin, and encouraged me to always know where my towel was.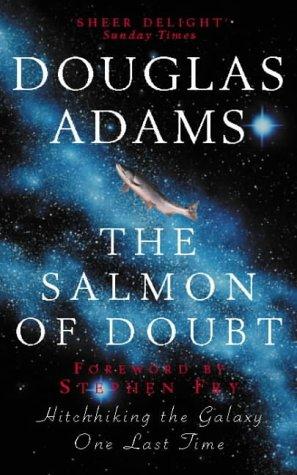 At 16 "The Guide" was a novelty and a source of a good laugh, but I never really let myself marinade in its Douglasian wit. It was a good read and a recommendation that I would give to others, but I never sought for more. My true appreciation for Douglas didn't develop until he was, well, post Douglas and I read The Salmon of Doubt for the first time. There was something about the person Douglas that others wrote about that captured my true appreciation for the writer Douglas. The short articles that filled the first half of Salmon of The Doubt kept me laughing out at his wit, wordplay, and perspective on life that makes the loss of Douglas that much more reminiscent of Vogon poetry.
Since it is Towel Day and I am going to share a few of my Douglas related tokens I received this year, both from one of my new Facebook friends John Palfrey. The first is a nugget of Douglas trivia. Apparently, according to the book Pigs Might Fly by Mark Blake, The Inside Story of Pink Floyd, David Gilmour and Douglas Adams were best mates… I had no idea. So to those of you that didn't know, you're welcome (thanks John), and if you happen to be one of those that did know, you have all earned yourself the brown Arts & Literature Trivial Pursuit triangle. Well done and roll again.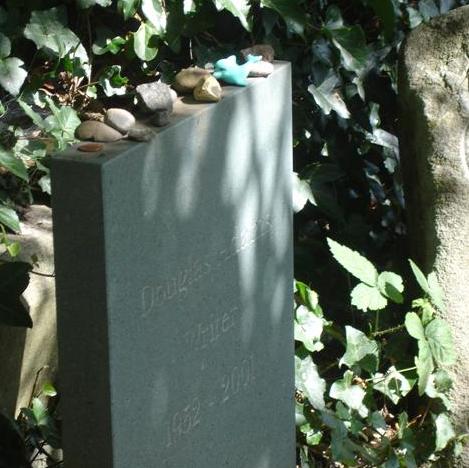 The other thank you to John is for sending me the photo he took of Douglas' headstone a few years back. Yes, that is a toy dolphin setting on top of it. There are some sayings that seem to find their perfect place in time and space. Creating a type of literary immortality where, as long as there are people who read, these phrases will live on. Some have been tried by time and translation, and are here for the long count. Phrases like, "And it came to pass", "To be or not to be", and "When in Rome."
Then there are some sayings that are so poignant that even in their own time they catch a people's minds and hearts and will not go gently into that good night. These phrases include "I have a dream", "We have nothing to fear but fear itself", and, of course, "So long and thanks for all the fish." There are words that tie humanity together. Phrases that inspire in us, give us joy, strengthen our resolve, fill us with passion, bring us together in unity, and fill us with laughter. Douglas always had a gift at the latter of those.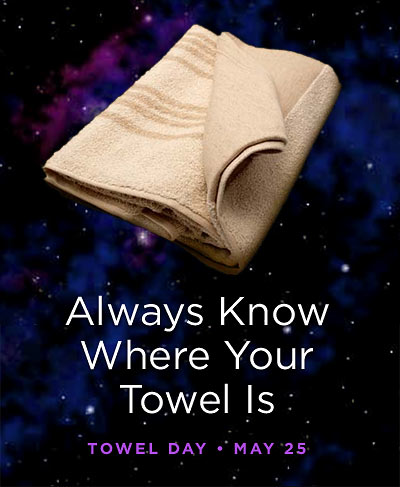 Apart from all the unsure and panic stricken glances that today held, I did have, what I believe alcoholics refer to as a moment of clarity, which was this… regardless how you feel about Douglas or his canon of Hitchhiking tales, there is one irrevocable truth that encompasses today… As long as we live in a world where there are towels, we will have a world that remembers Douglas Adams.
Did any of you remember your towel today?
Image Source: John Palfrey and Google Images, key words: Towel Day, Hitchhiker's Guide to the Galaxy, and The Salmon of Doubt.