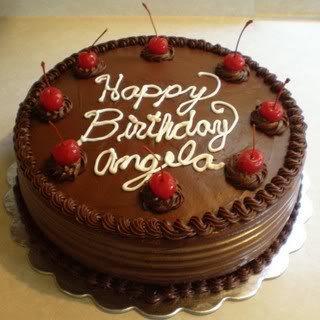 Recently my sweetie-baby-cutie-pie-wifey-pooh had her birthday, and as birthday's go this one went rather well. The celebration of which managed to expand over a three day period, which is almost the amount of time it takes to watch the Lord of the Rings Extended Version Trilogy back to back… almost being the distinguishing word there.
So what made this birthday so grand and drawn out? There were a couple of elements added to this holiday. The first and main reason, it was Angela's birthday and in truth I could just stop there. When the one you love becomes a year older what better cause for celebrating for three days in a row. As far as age goes, I am going to break all southern etiquette rules… or is it female etiquette rules? I am going to break all southern female etiquette rules and let you all know that it the fourth anniversary of Angela's 29th birthday. And that means only one thing! Butterflies! I'm pretty sure that the symbol of the fourth birthday anniversary is the butterfly. At least that's the theme I went with. Of course having Angela overly smitten with most things butterfly caused this choice to work out pretty well.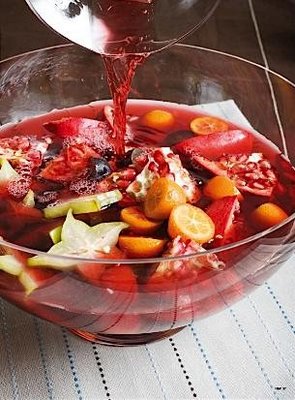 Saturday evening began the birthday festivities in a tri-celebration. Two additional friends were also in the season of their birthday so in the spirit of giving I made a vat of fruity alcoholic happiness. One of the birthday people had brought two questionable bottles of wine. The type of wines that had exceeded its stay in its home of fermentation and over the years had become a bit withered and grumpy, and constantly yelling at all the young wines to stay out of its rack. One was a white zinfandel and the other was a seven year old bottle of Chianti. After trying each it was clear that both had gone over to the dark side. I used my mixing mastery in to save these poor decrepit wines from being undrinkable, and turned them into the base for my beverage dispenser of fruity birthday toasting.
We did end up putting a skull and crossbones sticky note on the drink dispenser though. Apparently if you fill something with fresh fruit, ice, and make the liquid in it a happy and festive summer color, little kids tend to think that it was made specifically for them. I learned this as I was finishing up the drink and a line of little people formed asking if they could have some. There was a chorus of adults loudly denying this request. "That drink is not for you." echoed throughout the party and a pitcher of lemonade was quickly produced and poured into the little one's cups.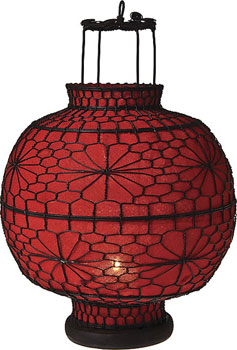 As the party came to a close and birthday people began to head home, we had the present opening portion of the evening. To Laurie, our gracious party host, and whose husband Dwight and friends serenaded our birthday honorees with live music, we gave her a cage for naughty candles that refuse to play nice with others. At least that's what it reminded me of. It was a round wire cage with a twisty bottom that you could remove and place a candle on, and then twist back into place so that the candle was in the cage. It also had a long wire handle so you could hang it on a ceiling hook in a corner of the house when you decide to put the candle in time-out.
Then there was Mike, who received the collection dollar items for the sole purpose of filling a lovely leather travel toiletry bag that had a water proof lining for Mike to take with him on all his many travels… to meet up with his wife who travels all over the world for work… which means she now has a very nice travel bag to take with her when she travels and that will always house one extra tooth brush for Mike for those occasions when he gets to meet her somewhere in France, Germany, Michigan, wherever really.
I did manage to get Mike a new t-shirt though, which is inherently him. Some people collect spoons, others collect spices, which is a lot more people than you might think. Think I'm kidding? Go to your kitchen and look in your spice drawer, you just might be surprised at how many spices you have in there that have never been opened. If you have more than five, then you are an unknowing spice collector. Welcome to the club.
As for Mike, he collects vintage looking food t-shirts. Like his red shirt with a big McDonald's M on it, or his brown t-shirt with the A&W logo on it. He loves them. It's a sort of tie to his youth when junk food tasted better, was cheaper, and was probably better for you than it is today.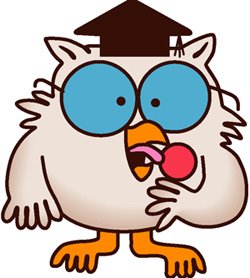 For you slightly out of your twenties folk, do you remember the Tootsie Pops commercial with the owl and the little kid asking how many licks it takes to get to the center of a Tootsie Roll Tootsie Pop? The owl takes the pop licks it three times and then bites the pop off the stick, and hands the stick back to the kid telling him, "three." Well it just so happens that I found a t-shirt that had Mr. Owl sitting on a branch with the word POPS in the back ground, and a caption under the owl that read, "How many licks?" When Mike unrolled the t-shirt and saw what it was… it was like looking into the eyes of a six year old who had just eaten his first Reese's Peanut Butter Cup. It was the look of pure joy.
For Angela, I gave her the one thing she always seems to need more of, time… sort of. It was a watch, actually two, but I gave her the second one on her actual birthday instead of at the party. I guess you could say that I gave her time pieces symbolizing how time flies, but that just means that the watches I gave her had butterflies on them. Yes, accessories with butterflies on them truly is the one thing she currently seems to need more of.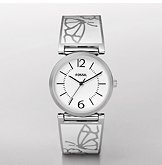 Getting her two watches started when we were in the Fossil store a few weeks back, which happens to be the same store where I got my sun dial. She saw two different watches that had butterflies on them and fell in love. She self debated for a good twenty minutes over which one she liked the most. Once she reluctantly decided I told her we'd come back as soon as pay day arrived. Then the next day I went and got both of them for her. My birthday message to her mimicked a message that she has been sharing with others for a while now. To paraphrase the message… you don't have to settle in life, you can be happy in personal and business relationships, healthy, wealthy and enlightened. Life is not about living in just one of those areas, while the rest suffer. Life is about all of them and living in a way where you have a balanced and whole life. In short, you deserve it all, and Angela deserved all of the butterfly watches she wanted.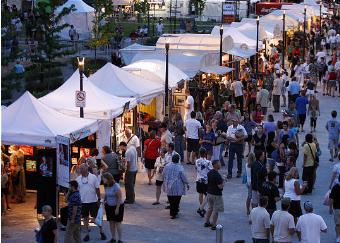 Day two of the celebration consisted of sleeping in, and moving slowly once we got up as a result of moderate alcohol consumption and an assault of vindictive pollen beating my allergies into a state of sneeze filled exhaustion. One we hit the post shower level of begin awake we went over to Laurie and Dwight's and helped clean up the party mess. Once that was done, we hit the last day of the Utah Arts Festival. We spent five hours wanders around looking at booth after booth of various forms of art, such as painting, jewelry, ceramics, glass work, pencil drawing, sculptures, stained glass, and so on. All the while we were being followed around and tempted by the savory fragrance of cinnamon roasted almonds… that mouth watering tempter of sweet crunchy goodness. We did manage to resist its temptation though.
There were five different stages at the Arts Fest and through our walkabout we did see two spoken word performances, a collage of different dance performances, an obnoxious pigmently challenged rapper, an Ani DiFranco sounding angry anti-folk singer, and a fairly groovy soul/funk band. Our evening ended with us going home around 9:30 as a result of me falling asleep on the grass while Angela was listening to the music. I really tried, but I was on a losing battle against the summer horror that is allergies.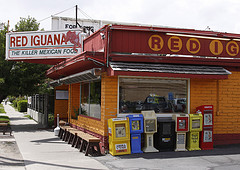 Day three, which was the official date of the celebration, consisted in me taking off work and spending the day with my sweetie. Again, sleeping in was our first accomplishment for the day. By 1PM we were out of the house and heading downtown to eat at Angela's favorite Mexican restaurant. It was so good, but so… much… food… We didn't eat anything else the rest of the day/night. The margaritas were strong and left Angela enjoying a birthday buzz as we went shopping the rest of the afternoon. Before lunch I did give her the second watch, and a card/sketchbook. Meaning I gave her a sketchbook where I sketched something on the first page and wrote an inscription along with it so it could serve as a birthday card. She cried when she read it, but in a good way.
I'm not sure why it's become common practice to always add that clarifier when you mention you made someone cry. I mean whose going to advertise that they were a jerk and made someone cry? Ok that is who beside Don Rickles, or a politician publicly apologizing for making their wife cry because they are a liar and cheater? Oddly though, every time I hear someone mention they did something to make their significant other cry, they always clarify it with, "In a good way?" It's always quickly added as well, as if there is some very large man close by holding a cricket bat ready to smack you in the kneecap while yelling, "You don't make women cry!" Still, we feel compelled to clarify every time that phrase is uttered.
All things said and done, it was a wonderful three day celebration for my beautiful wife's fourth anniversary of her 29th birthday. I love you honey! Next year I hope the celebration lasts a whole week… you deserve it!
Any thoughts about today's Smirk?
Image Source:
Google Images, key words: Happy Birthday Angela, fruit punch, hanging candle holder, tootsie pops owl, fossil butterfly watch, Utah arts festival, and red iguana Utah.