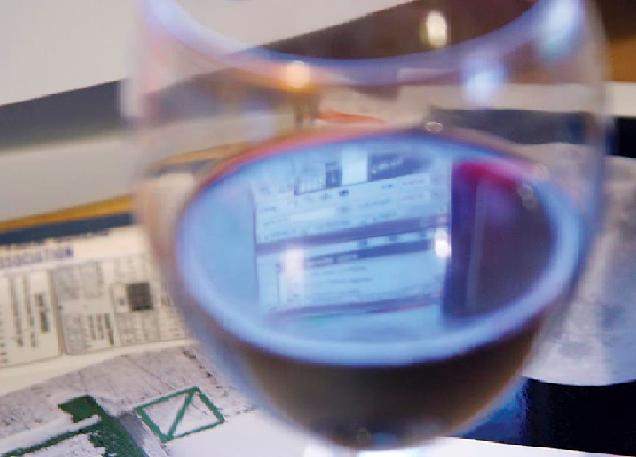 With this months wine party over and done with, mostly, I figure it's time to talk wine. I don't consider a wine party officially over until the last of the wine is drunk, drank, drunken… gone. As of today, I have one bottle to go. A half bottle of merlot and a half bottle of Pinot. Better make that ¼ bottle of Pinot. I call it palate motivation, and it adds a certain regalness to my desk. Besides I like the way the light of my monitor reflects through the wine, well did thirty minutes ago. I'm sure the wine party will officially be over sometime Friday… night.
So the wine I want to talk about was actually a wine that want not intended for the wine party. It was just finished at the wine party. It all started on the Thursday. You know how some days are really crappy and the idea of liquid libations start to tickle your senses, much like a sneeze during allergy season in a field of whatever the hell it is that give you allergies. Yeah, Thursday wasn't like that at all. As far as Thursdays it was rather lovely. I remember there was some sunshine and smog, but low smog.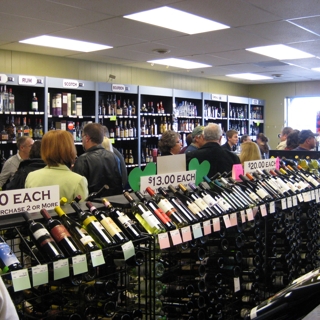 In route from work I just so happened to be driving by the liquor store. It took driving six blocks in the opposite direction I normally drive, but it was the… scenic route. There are two, three, ten… there are a number of things that I absolutely love in life. Turns out one of them is when you go into your local liquor store and discovering that the Italian wine section has almost doubled since the last time you were there… and I didn't even know that I loved that until last Thursday.
I knew what I wanted get for the wine party, but, but, but there were so many new ones! Besides wine should always be purchased in pairs, well you should always buy at least two bottles at a time. There are reasons for this. Mainly, it's the brown bag thing. If you get two bottles you get a bigger bag, almost grocery sized. There's a bigger sense of purpose, better yet, accomplishment.
But, if you only get one bottle you're stuck with one of those small bags that wrap around the neck of the bottle. Whenever I walked out of the liquor store with just one bottle I always felt like I needed a hobo jacket and a park bench to sit on. Oh, and if you get two bottles, or more, you always have the option to compare, and then compare, and then compare again.
The first bottle was something tried and true, a lovely Chianti Classico that I have savored on more than one occasion. Then, because there were so many new flavors, most of which I had never even seen before… let alone pronounce. That's one thing about loving Italian wines, I can describe the label simply enough, but I'll be buggered if I can tell you what it's called.

As for how I made this brilliant wine selection. I relied upon a tried and true method of decision making. I used that rhyme, the one about a guy named Moe and he was a meeny, or something. The rhyme ended and my finger was pointing at a bottle of 2007 Castello Monaci Liante Salice Salentino… I have the empty bottle on my desk as I type this to make sure I spell it right. It's made with Negroamaro (80%) and Malvasia Nera (20%) grapes and Castello Monaci is located near the bucolic town of Salice Salentino in Puglia, or in common English, the "heel" of "Italy's boot" .
As for my review, I'm going to get very technical and tell you it was "yummy" no, better make the "super yummy". Everyone that tried it made the Oooo sound. You know, that sound that says, "That just exceeded all my expectations I had for this." It was only $13US too. There's a saying about wine (that I just made up), which is, "Never underestimate the flavor of a cheep wine." Besides, it easy economics, why send $130.00 on one bottle of tasty wine when you can get ten bottles of something that is just as likely to make you say "Oooo, that's nice!" ten times more.
If you dig red wine, find a bottle of this and enjoy. And if you don't like red wine… get a bottle of this and send it to me.
Oh, and I also learned if at all possible, always purchase the 2007 Plungerhead Zinfandel before the 2008. The difference is sippingly noticeable, and more so if you actually take a mouthful of the stuff. So to recap, in a Frankenstein monster kind of way, 2007 Goood! 2008 Baaaad. I mean it's drinkable, just not nearly as drinkable.
You know, I don't think I've yet to ask this, but to you wine drinkers out there, do you have any red recommendations? I'd love to hear them.
Image Sources:
Google Images, key words: wine and PC, Castello Monaci Liante 2007 Salice Salentino, and wine store.