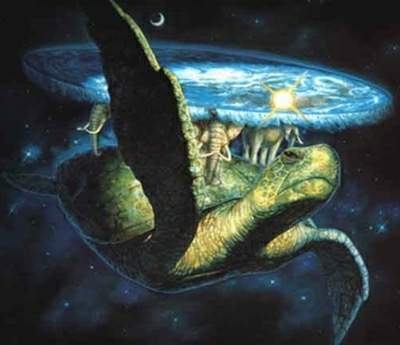 Friday morning was a good morning. Not because it was Friday, although it did help, but because of a fabulous little message that a new, yet dear, friend from Australia posted on my Facebook page. One of my Terry Pratchett inspired Smirks was posted in the April issue of Discworld Monthly, a free monthly on-line newsletter about Terry and his novels. It's a very groovy yet surreal moment to discover you've had something published, but more than that is not to know you've been published until one of your friends has read the piece that was published in the work that published your piece and then tells you about it. I hope that made sense.
The article was made up of excerpts from the Smirk I wrote back in January entitled The Disc… A World of Literary Cameos (click here to read the original Smirk). I sent a copy of it to the editor a few days after I posted it, you know, just in case, and that was that. A few months later… hey! That's me!
The Discworld Monthly has been around since 1997. In fact next month will be its 13th anniversary. A big, yet early, congrats and well done to them. It was created with the goal of keeping fans informed about the latest happenings in the Discworld and Terry Pratchett Fan Communities. I happened across it about a year ago. Then about five to six months ago I took the plunge and just subscribed to have the newsletter e-mailed to me every month instead of having to remind myself to check out the site each month or so.
My recommendation… if you are a Pratchett fan, and I know a number of you are, definitely check out the Discworld Monthly, and sign up for the newsletter. It's a great treat for me each month receive an e-mail newsletter devoted to all things Pratchett.
There is also a Discworld Monthly Facebook group. So by all means check it out and join the group. And for those thinking about checking it out, there's even a link to the new Going Postal trailer, which looks grand.
Thanks again to Heather for letting me know I was in this month's issue. It's a lovely way to start one's day.
To those that checked out the newsletter, what did you think?
Image Sources:
Google Images, key word: Discworld.