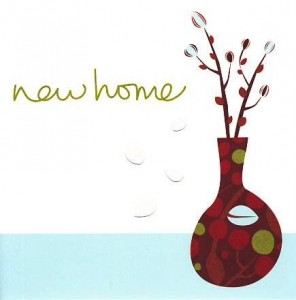 Well, its official, Smirk has a new home! What was once a WordPress only site is now an adolescent… ok maybe infantish .com site. I'm sure you've noticed not much has changes… and you are correct, at least on the visual side of things. For now I am sticking with what I know and that the look of things is very similar to how everything looked on the old site. Hurray for template downloads.
However, because I changed my host, this means that my e-mail subscriptions host and RSS feed subscriptions have changed as well.
So this is a little public service announcement to remind people who would were subscribed to the old site, that you will need to re-subscribe to the new site.
The groove thing about the email subscriptions is that you will receive an email of each Smirk I post from here on out. It will be sent to your inbox the second after I post any new Smirk. I've done this with a few blogs that I follow regularly and it is rather convenient.
Here is a little walk though for those interested in subscribing:
Enter your email address in the Enter your email address: field in the right hand column of this post, and click on the Subscribe button.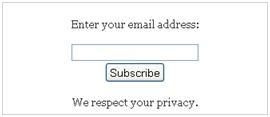 A window will pop up asking you to type some text to complete the subscription and click on the Complete Subscription Request button.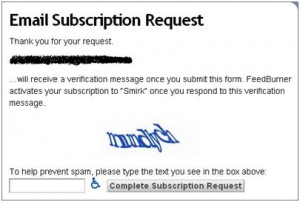 The following message will appear: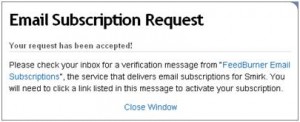 The email will have a link that you will need to click on to complete the subscription activation.
For those of you that choose to, thanks for re-subscribing, or even subscribing for the first time if that's the case. I do appreciate it, and I do apologize for this inconvenience.
If you have any suggestion or comments about the new site please email me at: [email protected]. Thanks all. I'll have a new Smirk ready for you all tomorrow. Cheers!