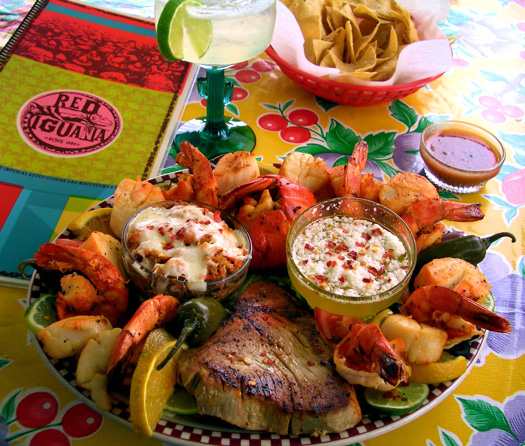 Saturday proved to be a rather delightful day dedicated to catching up with old friends. Some dear friends from my coffee shop past just so happened to be in town this weekend celebrating their birthday. Only one of them was having their birthday, but since they were married, it made sense that they should celebrate it together. They wanted to get together and catch up, and they wanted to eat some really good Mexican food. So we killed two stones with one bird and Angela and I met Jules and Brandon and their ridiculously adorable kids at one of the best, if not the best, Mexican Restaurants in Salt Lake, The Red Iguana.
It had only been about 12 or 13 years since I had last seen Jules and Brandon, but I can always count on a clever and well written Christmas letter from them when the holiday comes along. Now there are a few things that happen when you first learn that you will be having lunch with your old friend's kids. I mean your friends will be there too, obviously, but it's the unknown element that kids seem to always be bring into any equation that gets you initially a little unnerved. When it comes to old friend's kids there are really only two possible outcomes, well behaved fabulous children, or misbehaved complete and total bastards. There is also that inner little person filter that you need to remember to pay attention to. I did a fairly good job keeping my language at least at a PG-13 level through the entire meal.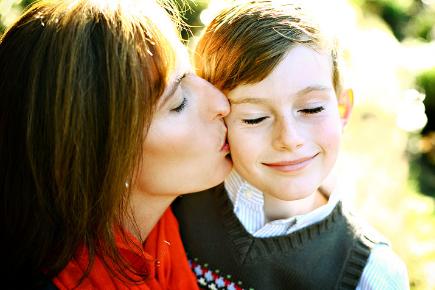 As for the kids, they were grand. There are a lot of little people (I mean children for those of you that don't know I call all children little people) in Utah. Making babies is kind of a… a hobby for a fair portion of the inhabitants of this state. In my experience I see a lot more ill behaved kids than well behaved kids. So anytime I run into well behaved kids, I always feel like I'm in a Ripley's Believe It or Not episode. It's just commonly so uncommon that I'm usually befuddled for the first 5 to 10 minutes. It was unbelievable. The kids just sat in their chairs, eating their food, and giving the adults a chance to catch up. Well done Jules and Brandon… well done Jules and Brandon's little people.
After lunch and a huggy farewell, it was back to the house to get things ready for the wine party that was to start at 7PM. Oddly enough, to keep in tune with the reunion motif that was lunch, I had two old friends that I had not seen since 2002, at my ten year high school reunion, show up at the wine party. They live in the area and ever since we agreed to be friends on Facebook I have invited them to a number of wine parties, but it just never worked out.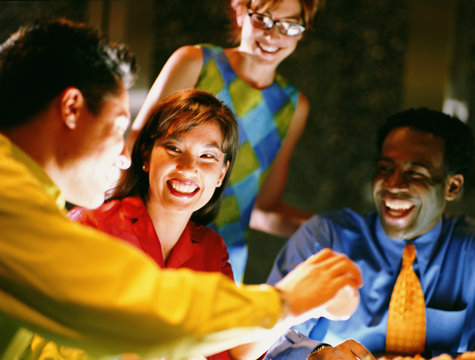 So yeah, the wine party had its own reunion element with these old high school friends showing up for the first time. It's always nice to catch up with old friends and realize that you have more in common with them that you thought you might have. Conversation definitely evolves to new levels of sharing when you hit that point. I did hear some stories about other people in high school that I never really cared to know, but alcohol has a way of enabling people to share stories that you normally wouldn't. Still, all in all, it was a lot of fun reminiscing and being reminded of things I had completely forgotten about… such as the Samantha Fox lip syncing video that I shot at my with all the girls at the 8th grade graduation party while all of the boys sat in the next room watching Aliens or some Arnie movie. I have no idea where it is and for the sake of all of us, let's hope I never find it.
There were a few other first time wine party friends there as well, plus the always reliable wine party regulars that are truly the friends I refer to as my other family. We did have plans to have a Earth Day moment. For some reason that seemed like a good idea at some point in the party planning, but it sort of got lost in the evenings consumption. I think the forgetfulness could be connected to the 15 empty wine bottles that covered the table be the end of the night. That doesn't include any of the mixed drinks that were being enjoyed throughout the night as well.
I think for the Earth Day thing we were going to turn off all the lights in the house for a moment a darkened Earth appreciation and meditation for those that were coherent enough to meditate. When we finally remembered that we had forgotten we decided that since so many people were at the house that meant their houses had all the lights turned out, thus conserving a lot more energy than if we had simple turned out our lights for a few minutes. I believe it's called proxy energy conservation. It's a new theory. I mean brand new… as of Saturday night at 11:37PM, but I think it's going to catch on.
I do have two favorite lines of the night that I wrote down so that I would remember to share them with all of you. They consist of:
One friend arriving late so there are only a few bottles left that have any wine in them. Once he helped finish the last of the bottled reds, he notices a box of Sangria, pours a glass. He takes one sip and replies, "Ew, if I'm willing to drink that, it's time for me to stop drinking." That about an expected profoundity, profan… talk about a profound moment.

The other was mostly an observation said with the desire to get a friends to smile who was going through a spell of drunken melancholy. The line was, "You know, if urine smelled more like lemons, bathrooms would get cleaned a lot less."
Yes, I know boys and their toilet humor, but hey after 15 bottles of wine there's a good chance that even you would be giggling at either one of those lines. Well if you hadn't already passed out that is.
As for the party's wine winner, I give you the 2005 Castello di Gabbiano Chianti Classico Riserva. It was a bit of a fixed win though. I hold a very special place in my heart for this wine. It was the wine Angela and I had at our wedding. Regardless of that little fact, the wine is still an amazing wine. I was first introduced to it when we first started the wine tasting group all those years ago. They were 2003 bottles at the time though. Still, the 2005 release has kept the flavor and depth that caused me to fall in love with the 2003 release in the first place.
It is one of those wines that after I take my first sip, my eyelids automatically shut as my eyes roll to back. Then, ss the wine hits the back of my throat I unconsciously begin smiling. And as I let it roll down my throat a small, "Mmm." involuntarily escapes signifying to everyone in the room that yes, the wine is that good.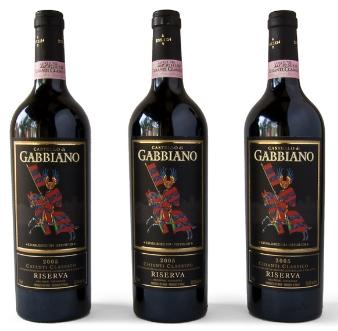 The key thing to remember is that it is the Gabbiano Chianti Classico Riserva, which is the bottle with the black label. The regular Gabbiano Chianti is ok, but pales in comparison to the Riserva. It's a $20 bottle of wine, but is definitely worth it, unless you are a fruity wine person. The thing I like about a $20 bottle of wine is that if you are a posh wine consumer, sure it might be a little low end for you, but it's still in the high low end range instead of low or medium low end range. And even if you are a two buck chuck drinker $20 is something you could do and be ok with once a year, like on your birthday when someone is buying a bottle for you and you want to try something that is an experience to remember.
It was a good Saturday all the way around, and on a groovy note, the next wine party is in two weeks. I have one of my best friends visiting and if there is one thing I know for sure its when a friend is visiting from out of town, you definitely have a party.
Any good wines that you've tried lately? I'd love to hear about them and add them to my list of friend recommended wines.
Images Sources:
Google Images, key words: red iguana, 2005 Castello di Gabbiano Chianti Riserva, good kids, friends laughing, and lemons.