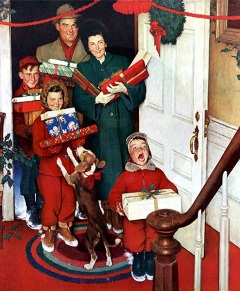 With the holiday season now over and the new year under way, today's Smirk is about the visit my sweetie-baby-cutie-pie-wifey-pooh and I took to visit her family. Now going to visit family over the holiday, or anytime really, can vary greatly depending on your family. Some families look at the holidays as a time to get through, like the last thirty minutes of Return of the King. Other families look at the holidays as one of the best things since peanut butter, which, unless you are allergic to peanuts, is a pretty damn delightful thing.
I have always been fortunate in that spending time with my family has always been on the peanut butter end of the peanut butter / Last thirty minutes of Return of the King appreciation scale. Angela's family is only a short drive, about an hour and a half is all, and ending with us pulling into Grandma and Kathy's driveway. Grandma is Angela's grandmother on her mother's side of the family, and the only living grandparent between the two of us . . . Kathy is her sister. I call her Grandma because, quite honestly, I have a hard time remembering her name.
This is not entirely my fault since, for the first three years Angela and I were together, no one ever referred to her by anything other than "Grandma". Sometimes they'd include her last name, but once Angela's father's mother passed, there was only one Grandma left, so including her last name when talking about her seemed unnecessary. By the time I finally got around to asking Angela what her Grandma's name was, it was already engrained in me that she was called Grandma and calling her anything other than that just sounded funny.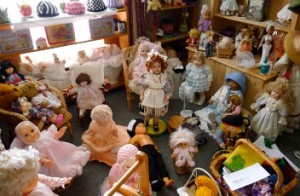 One of the things to know about Grandma and Kathy is that they own, make, collect, fix, and cherish dolls . . . a lot of dolls. The top floor of their home is essentially a museum of all the dolls they have collected over the years. While we were visiting the doll discussion came up, and as it turns out Grandma has started her "death book" (her words, not mine), meaning a book filled with pictures of specific items of hers in the house and who those items are supposed to go to when she passes. In short it's her will, with photo references.
As the girls (Angela, her sister, her mother, Grandma and Kathy) were talking about which dolls went to who, and making sure they were written down in the book Grandma looked up at me with the concern of someone worried they might have left someone out said, "Well Richard hasn't picked out any dolls yet. Do you want to go upstairs and pick out some?"
Cutest Grandma question ever!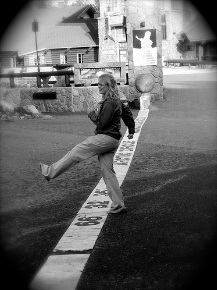 It felt like a rite-of-passage question, but you weren't sure if that was the case because you were never aware that this type of rite-of-passage even existed. I was honestly touched. These are some of her most prized treasures and in that small innocent question she told me, in her own little way, that I was family. And in a day filled with giving gifts, it was one of my favorite gifts this holiday season.
We all hiked up the stairs thus began the search for dolls that would someday, under exceptionally sad circumstances (her passing), make the journey from her home to ours (Angela and I). After about thirty minutes I was able to narrow my list down to three dolls, and possibly a paper castle and collection of books that were all about the castle (I borrowed the first three books to read to see if it was something I wanted). The three dolls I settled on:
Grover of Sesame Street fame
Buckwheat of Little Rascals fame
Pee Wee Herman of Pee Wee Herman fame (It even has a pull string so it can talk, which, yes, is a bit creepy, but is also nostalgically amusing as well.)
She made sure she wrote down every one of them in her book.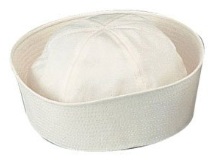 I do hope and expect that it will be years before those dolls ever make it to my home, and once they do, of course I'll play with them, but like so many of the items I have stored away or that are proudly displayed in my office, the true value from them is the story of how they ended up in my custody and the flood of memories attached to each item. My stuff carries the story of my life. Sometimes I'll let things go like the reminder of the hundreds of hours I spent learning to break dance, which were held in the parachute pants I sold at a garage sale years ago. Some items still rest on my bookshelf, like the old Navy hat a friend gave me after he joined right out of high school, all those years ago. That hat holds a sea of reminders of all the adventures we had together as kids . . . even the toast I gave at his wedding.
Things might not always hold a lot of fiscal worth, but some are worth holding on to for the memories they hold for us, and these three dolls already carry with them the memories of Grandma and Kathy, which with be that much more valuable when they finally make it home.
Image Sources:
Google Images, keywords: Merry Christmas Grandma, room full of dolls, crossing the line, and sailor hat.
© Richard Timothy 2012